About TattooRegret.ca Tattoo Removal Clinic
One thing that our company has learned in the years we have also worked providing SMP Scalp Micropimentation (sometimes known as "hairtattoo.ca"), is that not every clinic shares our complete devotion to quality and professionalism. We've, sadly, seen people come in who have had such poorly done SMP work, that there was no way to fix it without having the tattoo removed. In other cases, the SMP procedure was done with ink that reacted poorly to the skin and, again, the only solution that made sense was having the tattoo removed.
This realization led us to deeply research which methods were the best on the market today. We read, we observed, and we spoke to both professionals and people who have undergone tattoo removal who shared their experiences and opinions both pro and con.
Ultimately, we concluded on what was the best laser and non-laser tattoo removal methods available and made sure we assembled a team of skilled professionals that delivered the first-class results we demand.
TattooRegret.ca was born and has thrived ever since. So much so that we are universally regarded as the premier laser and non-laser tattoo removal clinic in the greater Toronto area. Our reviews never fail to back up this community endorsement.
We are proud to offer laser tattoo removal, using the best regarded laser model available today, the Quanta EVO Q-Plus, and two quite amazing non-laser removal methods, Tattoo Vanish®, and UNDO™ Removal.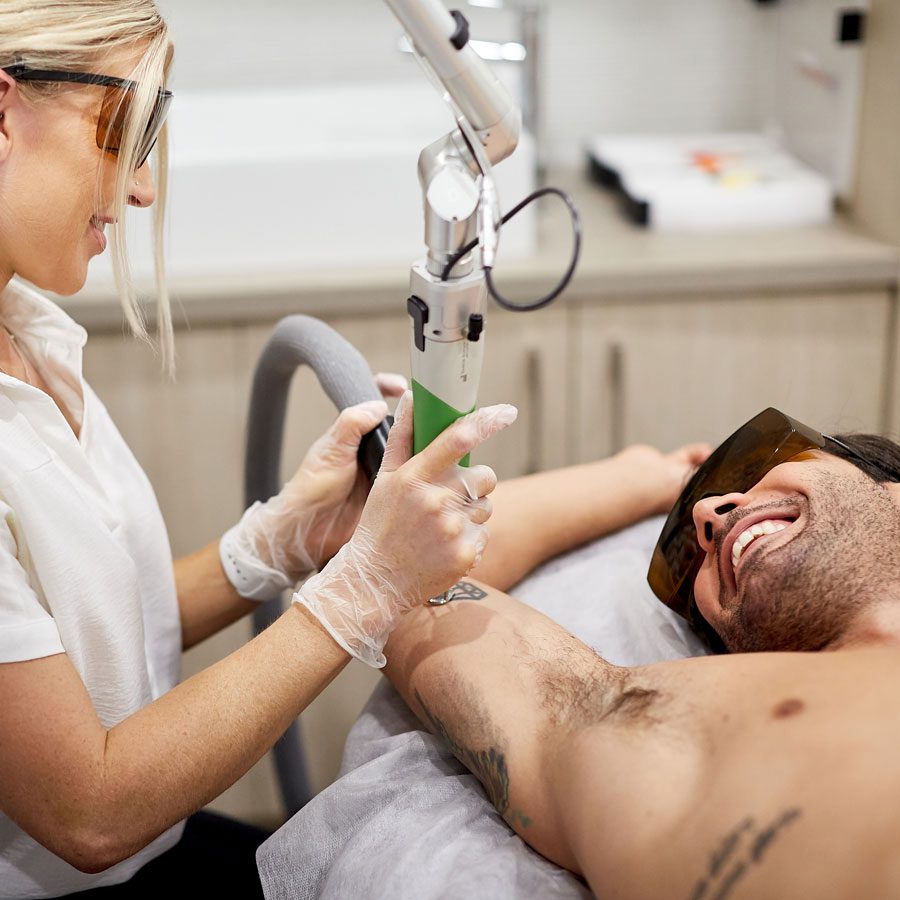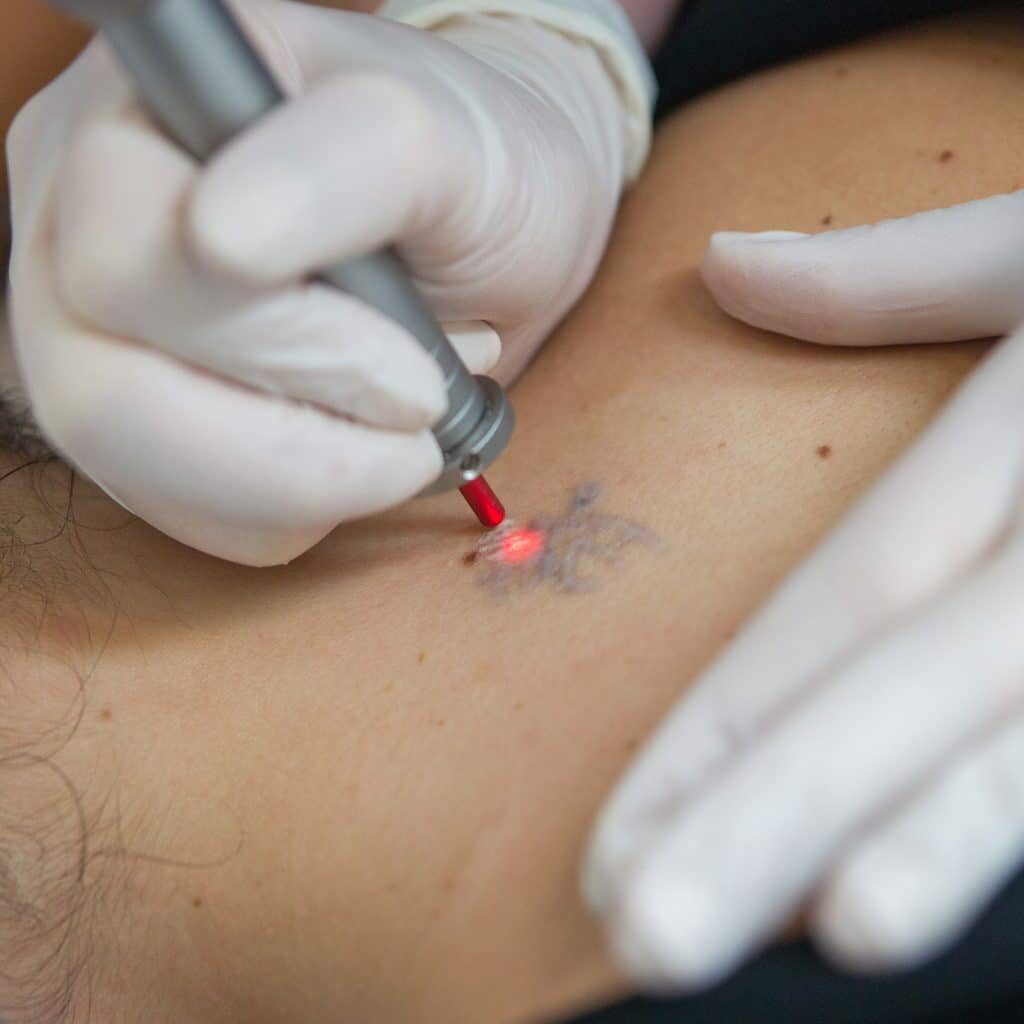 Most people are only aware of laser tattoo removal. The truth is, while laser removal may be right for you, there is also a big chance that one of our alternative tattoo removal methods could deliver better results, in less time, and for less money. Use our FREE online consultation form to inquiry which method is best for you.  We can explain the benefits and drawbacks of both laser and non-laser tattoo removal methods.  It is your body, and a more informed decision never hurts.
For example, a negative, for many, when it comes to laser tattoo removal is the number of sessions it takes to accomplish the goal. Usually ten sessions are needed, and you need to wait six weeks between each session. Do the math and you can see how long it takes for laser tattoo removal to be complete.
On the plus side laser tattoo removal can be a great choice for larger tattoos. Using the laser method large areas can be covered quickly in the clinic, something that non-laser techniques can't really match.
As for the benefits of non-laser tattoo method, consider you will likely need only half the number of treatments for excellent results. Less sessions in the clinic means less money spent, obviously.
The big drawback of our non-laser tattoo removal methods is it is only able to work on 4″ x 4″ area of skin per session. This makes it a poor choice for large tattoos.
However non-laser tattoo methods hurt less than our laser methods do, and they can be counted to work on all skin colours. Our non-laser methods are safe and use 100% all-natural ingredients.
WHY TATTOO REMOVAL CLINIC IS YOUR BEST CHOICE IN TORONTO GTA?
Our laser tattoo removal treatment uses the latest laser tattoo removal technology.
The Quanta EVO Q-Plus Series laser is the best three-wavelength laser for tattoo removal available today, and step above what most other clinics are using in the industry today.
Our breakthrough tattoo removal laser machine is effective on most ink colours, including black, red, brown, yellow, purple, green, and blue.
We use the Zimmer Cryo 6 to cool the epidermis using -30°C air before, during, and after the laser removal process. This minimizes pain much more than other approaches like contact cooling, cryogen spray or ice packs. The Zimmer Cryo 6 even helps the tattoo removal process in other interesting ways too.
Our new FLAT RATE PRICING for laser tattoo removal makes the guess work on calculating your tattoo size the thing of the past. 1″ x 1″ to 5″ x 5″ is $250 and tattoos smaller than 1″ x 1″ is $150.

Our non-laser tattoo removal methods work on ANY ink colours, and the ink is not processed through the body, making it much healthier for the body.
Our non-laser tattoo removal option takes less total time, often dramatically.
Our non-laser tattoo removal method ultimately costs less than laser tattoo removal.
Our non-laser tattoo removal treatment is performed with a tattoo machine along with a numbing cream, which helps make the procedure as comfortable as possible.
Our non-laser tattoo removal treatment is effective and, importantly, the safest medical tattoo removal option on the market today.
Our non-laser tattoo removal treatment helps remove the risk of scarring through chemical burn which can be present during laser tattoo removal procedures.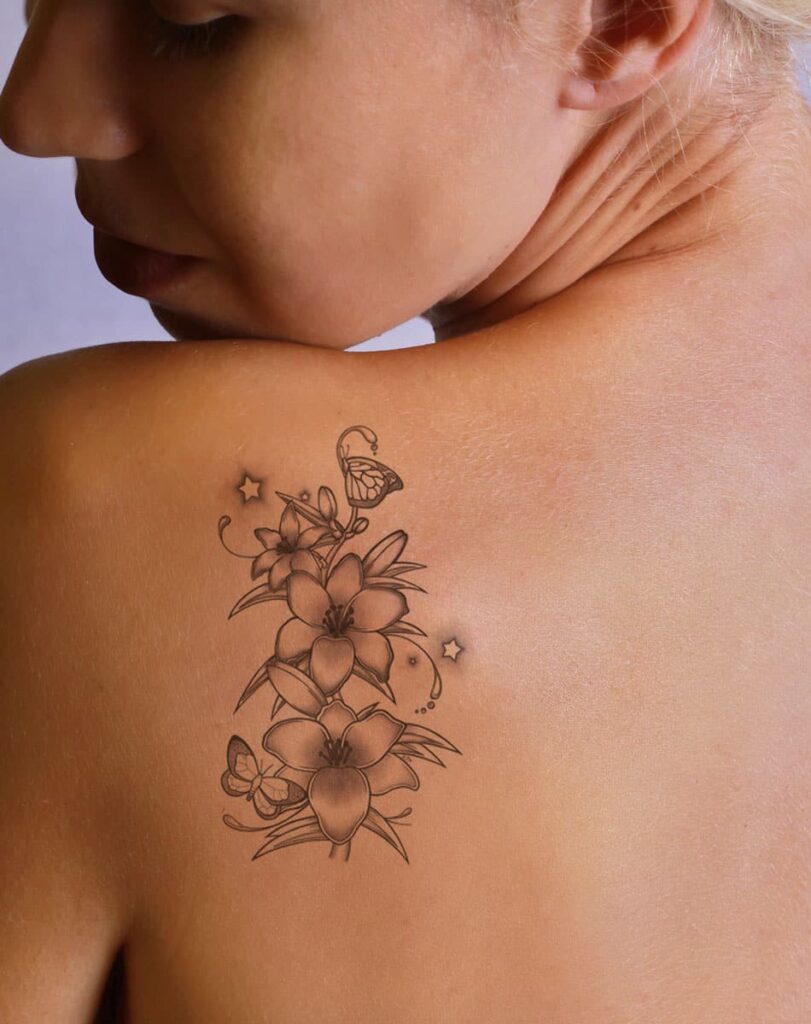 SO YOU HAVE TATTOO REGRET?
CONTACT US TODAY TO SCHEDULE YOUR CONSULTATION!