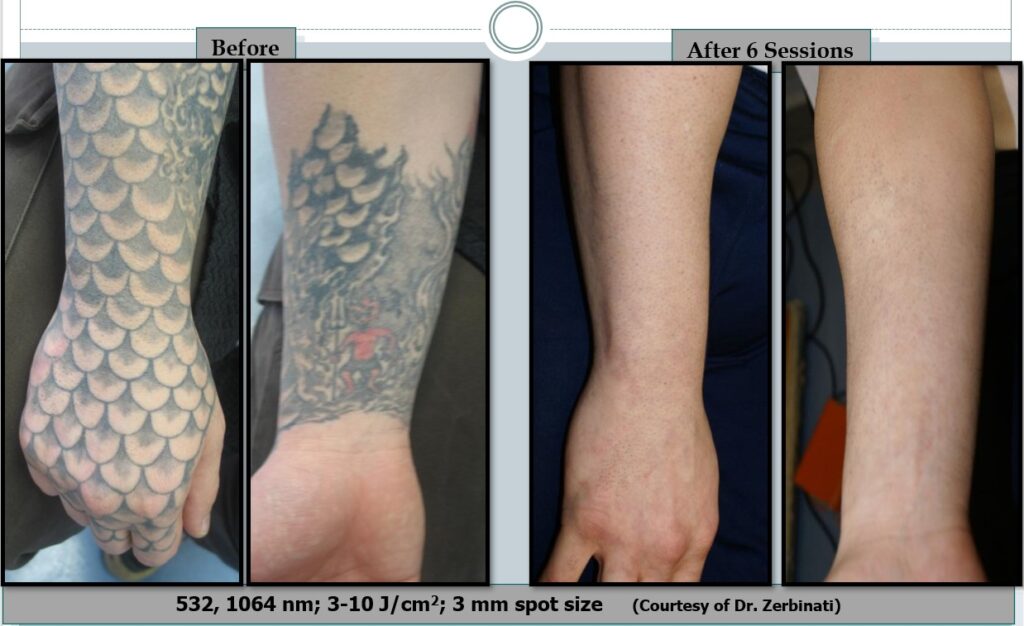 Are you interested in getting a tattoo removed? You are in the right place to learn more. By any standard TattooRegret.ca is the premier, leading, and best reviewed resource in the greater Toronto area to have a tattoo removed professionally, successfully, at an a fair price.
We want our patients to be able to have access to the tattoo removal method that best fits their individual needs. In that spirit, we are one of the only tattoo removal professionals in Toronto GTA that specialize in both laser and non-laser tattoo removal options. Some competitors try to claim one tattoo removal method is best for everyone. Our deep experience has shown us that this is simply not true.
Let's discuss Laser Tattoo Removal as offered here at the TattooRegret.ca, so you can consider the benefits and drawbacks of this method.
SMP SCALP MICROPIGMENTATION REMOVAL
WHY REMOVE YOUR SMP TREATMENT?
SMP scalp micropigmentation is a permanent solution to hair loss.  This is important because it helps our clients to do away with hair loss related anxiety. All he needs to do is to keep his scalp shaved, clean and moisturized, and take reasonable precautions in the sun. The bottom line is that SMP Scalp Micropigmentation is intended as a permanent solution, not one that should be removed on a mere whim.  Since scalp micropigmentation is applied with less depth than traditional tattoos, the number of sessions required to remove is less as well.  On average most SMP removal takes 3 sessions spaced 6 weeks apart for removal.
Not All Tattoo Removal Lasers are Equal: A Look at the Evolution of Laser Tattoo REMOVAL?
Tattoo Removal Clinic's new Quanta EVO Q-Plus Tattoo Laser Machine is the best laser tattoo removal device being used today.
The EVO Q-Plus Series is the next generation three-wavelength laser that has been so appreciated in the tattoo removal world. Upgrade with a 3 Hz Ruby, the quickest on the market today, and a number of new emission modes, the device opens doors to new treatments that the old models of the EVO were not as well suited for.

A breakthrough in advanced optical technology the OptiBeam™ II Technology OptiBeam™ handpiece allows the Q-switched laser to be used optimally, helping to prevent problems in the laser tattoo removal process by distributing the devices laser power evenly.
Q-Switched Nd:YAG Laser
Energy up to 1600 mJ/pulse @1065 nm,
Pulse Width of 6 ns, 12 ns or 250 microseconds
Adjustable Repetition Rate up to 10 Hz
Q-Switched Ruby Laser
Energy up to 1200 mJ/pulse @694 nm
Pulse Width of 30 ns
Energy on the skin up to 1.2 J/pulse
Q-Switched Nd:YAG 532 and 1064 nm
Same spedifications of Q-Plus A
Combined with a Ruby Laser @694 nm
Pulse Wiedth of 30 ns
Energy on the skin up to 1 J/pulse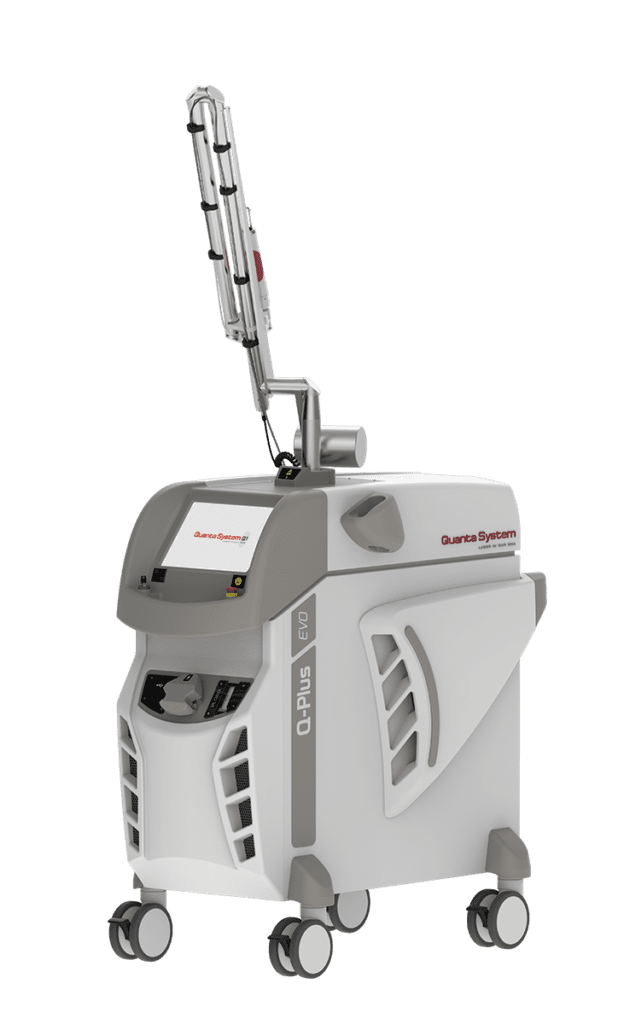 Quanta Vs Picosure,
which is Better?
There has been much hype about the Pico laser for tattoo removal in recent years.
To treat all colors with three accurate wavelengths, Quanta Aesthetic Lasers have been marketing the Q plus C on the market as the only device.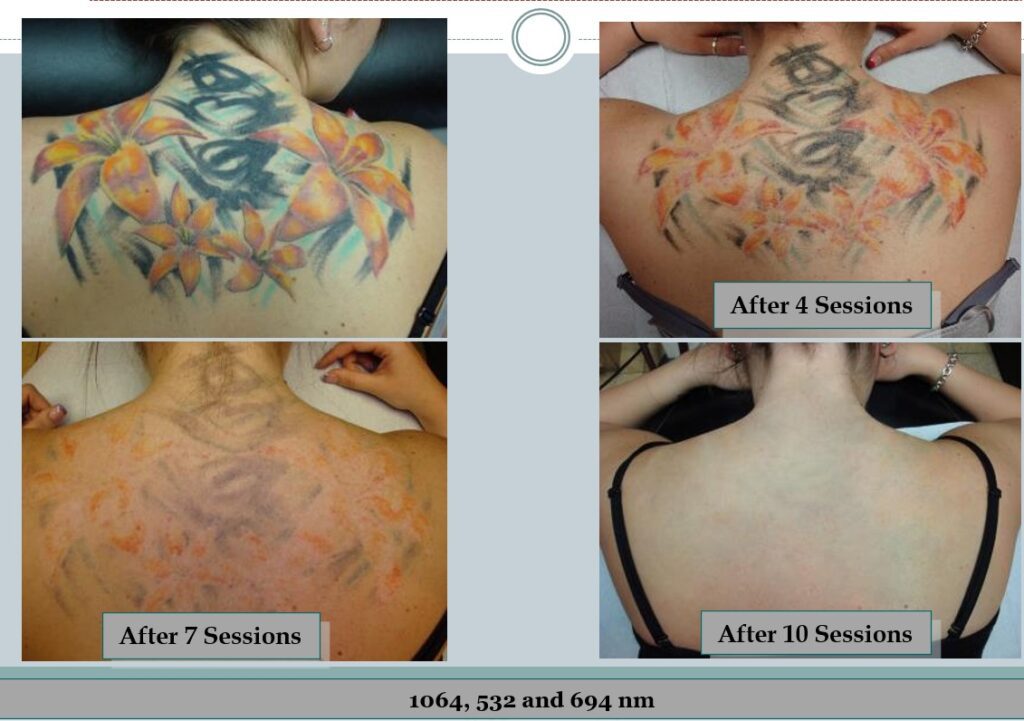 These marketing claims have been verified around the world by clinics. Validation on a big scale has been pursued in line with these claims.  
Effectiveness and fast delivery have been the epitome of marketing campaigns on these devices by The Picosecond laser manufacturers. They claim that the results for nanosecond systems are "100x less fast" than Picosecond.
So, What's the real story? You may ask!
Such marketing claims are now under scrutiny and have been put to validity testing due to a class action lawsuit taken against PicoSure/CynoSure in recent times. You can check out the below-mentioned source for reliable information.  
Source: Cynosure Picosure Class Action Lawsuit
It would be fair to say that the Quanta is superior when comparing the PicoSure and Quanta Q Plus C lasers for tattoo removal.
So, what is the most considerable difference?
The PicoSure can treat primarily blue, black (not as effectively, though), and green. In contrast, The Quanta Q plus C can treat all colors, making it a unique ability.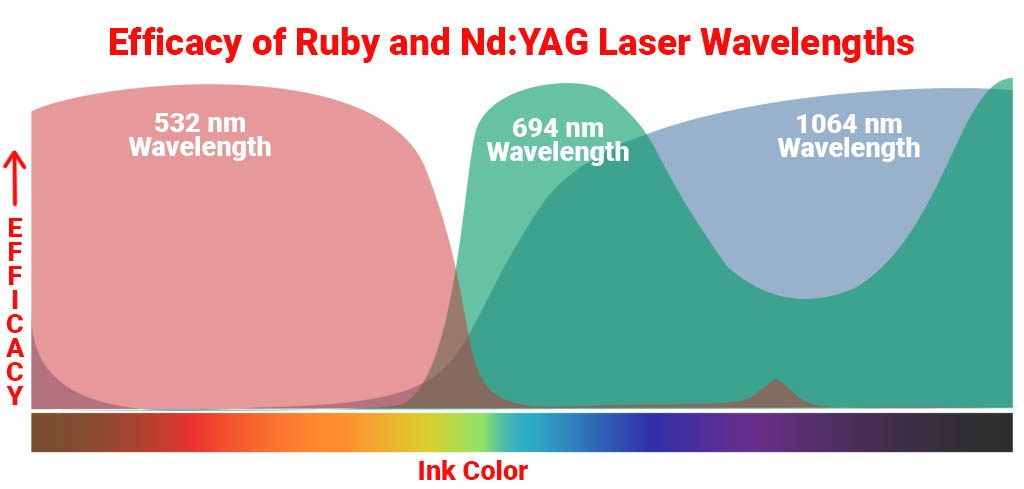 Quanta Aesthetics: The Company Behind the
Quanta EVO Q-Plus
For over two decades Quanta has led the way in creating, manufacturing, and distributing lasers for medical and aesthetic uses. All backed by a team of knowledgeable professional who are quite skilled in helping doctors, technicians, and other professionals make the right choice when they are laser-shopping. This extra level of customer support has won the company real loyalty from its clients.
Quanta lasers have diverse uses. Some highlights include Tattoo Removal, Permanent Hair Reduction, Wrinkles Reduction, Active Acne and Acne Scar Reduction, Surgical Scar Removal, Pigmented Lesions Removal, Fractionated Resurfacing, Surgical Dermatology, and Nail Fungus Removal.
Quanta is devoted to delivering the best in engineering, design, quality, in the lasers they design and manufacture. These same high standards are also held when it comes to how the company interacts with customers.
A Look at the Quanta EVO Q-Plus
Tattoo Laser Machine
The Quanta Q-Plus series of lasers currently include six different choices, allowing clients to purchase the appropriate laser or lasers to meet the needs of their practice. In the Quanta Q-Plus system two different laser sources can be inserted: the Q-Switched or hybrid Q-Switched/Pulsed.
Pulsed Wavelengths
Q-Plus Series is the only hybrid laser device available today that can also be configured with Pulsed lasers.
Q-Switched Effect
The Q-Plus q-switched sources can generate a photoacoustic effect targeted at ink and pigmentation, framenting them into small particles to remove the ink and pigment while the surrounding skin is unaffected. These small particles are more easily processed by the body.
Optibeam II
The OptiBeam II handpieces can generate different flat-top spot shapes at various sizes, making it able to address different issues more effectively. Some examples of the setting and what they can be used for:

Square flat-top handpieces the best choice for tattoo removal.
Round holographic handpieces are designed to treat pigmented lesions.
Fractional handpiece is a setting that wins praise for revitalizing skin.
Contact Skin Cooler or Air Skin Cryo
TattooRegret.ca also addresses other aspects of laser sessions, helping them go more smoothly and reducing pain. The Zimmer Cryo 6 cools skin during a laser treatment, which reduces pain and can even help minimize the chances of some adverse side effects of a laser session.
The Zimmer hand piece, works with an external air-cooling unit to direct cold area on the skin surface helping lower pain and protect against thermal injury on skin tissue.
Twain Handpieces
The Twain IPL is a powerful device that can be used forr: Hair Removal | Dermatological Vascular Treatments | Benign Pigmented Lesions | Skin Rrejuvenation | Active Acne
TheTwain 2940 works best with: Skin Ablation | Full Skin Resurfacing
Fractional: Skin Resurfacing | Traumatic and Acne Scars | Epidermal Dyschromia | Sun and Age Spots
Get a FREE Online Consultation
Looking for Tattoo Removal?  TattooRegret.ca, is the premier tattoo removal clinic in the GTA specializing in BOTH laser and non-laser tattoo removal methods.  We use the Quanta EVO Q-PLUS C for laser treatments and Tattoo Vanish and UNDO for non-laser tattoo removal treatments.  Clinics in Richmond Hill and Toronto.