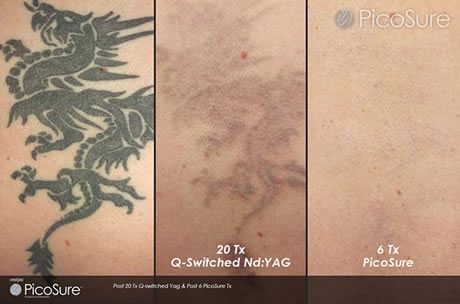 PICOSURE
LASER TORONTO LASER TATTOO REMOVAL SERVICE
Are you interested in getting Picosure laser tattoo removal service? You are in the right place to learn more. By any standard TattooRegret.ca is the premier, leading, and best reviewed resource in the greater Toronto area to have a tattoo removed professionally, successfully, at an a fair price.
We want our patients to be able to have access to the tattoo removal method that best fits their individual needs. In that spirit, we are one of the only tattoo removal professionals in Toronto GTA that specialize in both laser and non-laser tattoo removal options. Some competitors try to claim one tattoo removal method is best for everyone. Our deep experience has shown us that this is simply not true.
Let's discuss Laser Tattoo Removal as offered here at the TattooRegret.ca, so you can consider the benefits and drawbacks of this method.
CLICK HERE TO BOOK A FREE CONSULTATION ONLINE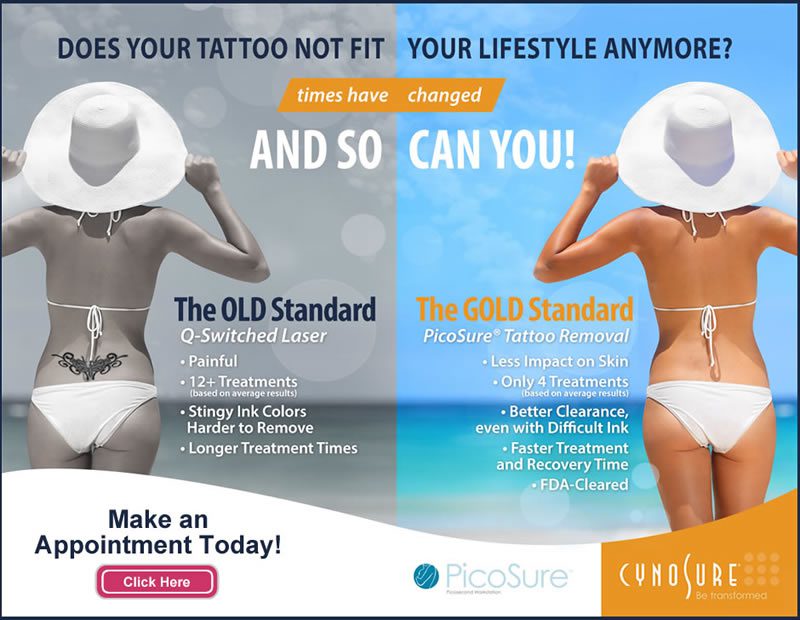 HISTORY OF LASER TATTOO
REMOVAL
The gold standard for laser tattoo removal for the past several decades has been the Nd:YAG laser. Initially it was the ConBio Medlite II®, which was eventually replaced by the Medlite C6® and Revlite® lasers. Nd:YAG stands for neodymium ytrium aluminum garnet which is the crystal in the laser that creates the specific wavelength of light unique to that laser.
By definition, a laser is a single wavelength of light as opposed to standard visible light, which contains thousands of different wavelengths. For the Nd:YAG laser, the wavelength is 1064nm (nanometers) which is very good for most black tattoo inks and, because it is a relatively long wavelength, it penetrates deeper into the skin than shorter wavelength lasers.
Frequency Doubling
In addition, most Nd:YAG lasers also have a frequency doubling crystal which, when activated, cuts the wavelength in half to 532nm which is very good for most red inks as well as some orange and purple colored tattoos. One of the biggest problems with the 532nm wavelength is that it is also well absorbed by human pigment, which competes with the tattoo ink for the laser energy. As a result, the laser can permanently remove skin pigment as well as ink pigment; the darker the skin, the higher the risk of pigment loss is. This is one reason why patients are encouraged to protect their skin from the sun in the tattoo being treated is in
Unfortunately, these lasers generally do not do well with most blue and green inks which have become popular colors for tattoos.
THE INTRODUCTION OF PICO LASER TATTOO REMOVAL
In 2013, the Picosure laser was introduced by Cynosure as the biggest advance in laser tattoo removal technology in many years. One change, which is not all that new, is that it is an Alexandrite laser, giving it a wavelength of 755nm; making it very good for green and blue ink while still very good for black ink. However, it is not absorbed by red ink, so anyone who performs a lot of tattoo removal procedures will need an Nd:YAG laser as well.
Faster Firing Speed
The real technological advance is the speed at which it fires. The Nd:YAG lasers fire in nanoseconds (billionths of a second) which is pretty fast. The Picosure laser fires in picoseconds (trillionths of a second). According to Cynosure, this faster firing speed fragments the ink particles into smaller fragments, which are more easily removed from the skin by your immune system. As a result, the tattoo ink fades in fewer treatments than with most Nd:YAG lasers.
Pain
Laser tattoo removal can be painful and most physicians will have their patients apply an anesthetic cream for two to three hours before their treatment to reduce pain during the procedure. The application of ice before the procedure can also help along with blowing cold air on the area during the laser treatment. In our experience, most patients say that the Picosure laser treatment hurts a little less than the Nd:YAG laser.
CLICK HERE TO BOOK A FREE CONSULTATION ONLINE
SMP SCALP MICROPIGMENTATION REMOVAL USING LASER TATTOO REMOVAL METHOD
WHY REMOVE YOUR SMP TREATMENT?
SMP scalp micropigmentation is a permanent solution to hair loss.  This is important because it helps our clients to do away with hair loss related anxiety. All clients needs to do is to keep their scalp shaved, clean and moisturized, and take reasonable precautions in the sun. 
The bottom line is that SMP Scalp Micropigmentation is intended as a permanent solution, not one that should be removed on a mere whim.  Unfortunately, there are some substandard SMP work out in the industry and clients come to us for SMP removal.  Since scalp micropigmentation is applied with less depth than traditional tattoos, the number of sessions required to remove is less as well.  On average most SMP removal takes 3 sessions spaced 6 weeks apart for removal. 
 Once we remove your SMP, you can get one of our expert SMP artists at 
hairtattoo.ca
 to redo your scalp micropigmentation for you.
Not All Tattoo Removal Lasers are Equal: A Look at the Evolution of PICOSURE Laser Tattoo REMOVAL
TattooRegret.ca's new Cynosure's PicoSure Laser Machine is the best laser tattoo removal device being used today.
The PicoSure® is the the world's first picosecond aesthetic laser-optimal wavelengths for treating tattoo removal.
Groundbreaking innovation. Unique technology.
Creating an intense photothermal impact in trillionths of a second, PicoSure's® advanced technology spares the skin high thermal damage and targets the chromophore for better clearance in fewer treatments.
Optimally targets melanin to treat a range of pigmentary conditions
Incurs minimal thermal damage due to picosecond pulse duration
Customizable treatments with 2-6mm, 8mm, and 10mm spot sizes
Proven clinical validation, with 26 publications and 59 abstracts to date
PicoSure Laser makes tattoo removal even easier. The 755nm wavelength is able to target black, blue, and green tattoo inks, while the optional 532nm wavelength offers effective treatment of "sunset colors"—red, yellow and orange—which are typically hard to correct. You'll also be able to:
Tailor treatments using variable spot sizes
Use boost mode to better treat recalcitrant tattoos with shortened pulse width
Treat black ink in darker skin type patients using the 1064nm delivery
Focus Lens Array: A revolution in skin revitalization
Cynosure's Focus Lens Array creates microscopic, photomechanical reactions in the epidermis that communicate with the dermis, leading to increased collagen and elastin in the skin. This breakthrough enables skin revitalization with virtually no downtime—only with our PicoSure laser.
CLICK HERE TO BOOK A FREE CONSULTATION ONLINE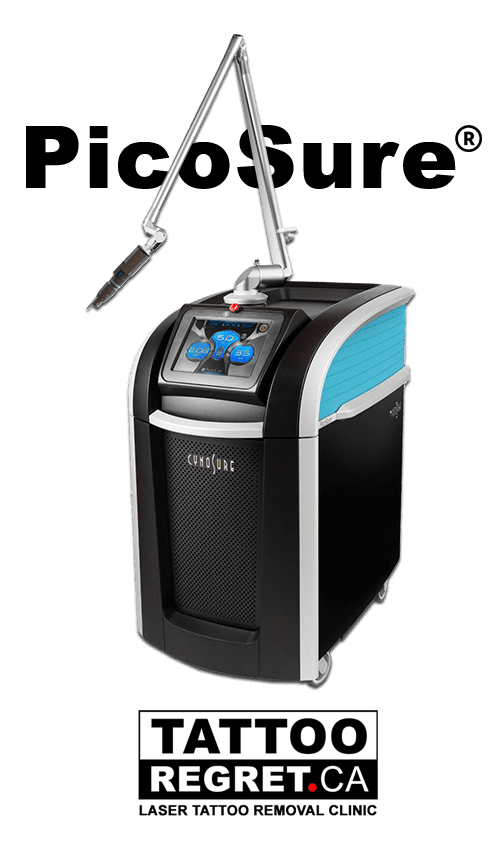 Picosure laser
Testimonial
Signaling a new day in skin revitalization with impressive results, fewer treatments, and minimal downtime. Think breakthrough. Think PicoSure laser.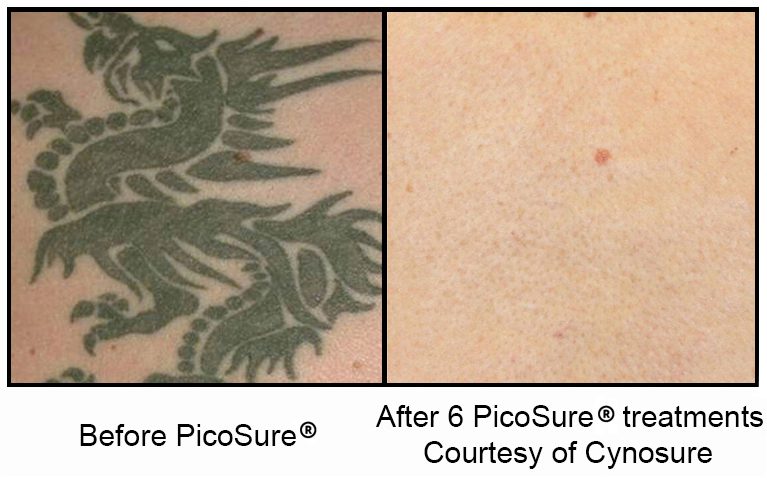 "All of my fractional ablative patients who have transitioned to the PicoSure® using the FOCUS lens array report reduced discomfort and minimal downtime compared to their prior treatments. Overall I have been especially impressed with how minimal and brief the duration of redness is after treatment compared to my other fractional lasers."
 David McDaniel, MD
Cynosure Aesthetics: The Company Behind the
PicoSure laser
Laser Tattoo Removal is one of the fastest growing procedures in all of aesthetics. That is why you need the best laser tattoo machine. PicoSure® is the industry's premier picosecond platform!
PicoSure® is the most clinically studied and validated picosecond laser in the industry
Only PicoSure's® 755/532 nm wavelengths can treat all colours
PicoSure® Focus provides impressive skin revitalization results with virtually no downtime
How it works
Throughout a treatment laser energy is delivered to the unwanted tattoo, targeting the ink and breaking it down into smaller particles. The tiny particles are then eliminated through the body's natural processes, resulting in faster clearance with fewer treatments than traditional lasers.
Does tattoo laser removal hurt?
Patients have described treatments as feeling similar to the actual tattooing process. Your provider may offer numbing cream to minimize any possible discomfort throughout the treatment.
How long are treatments?
Treating an average sized tattoo typically takes around 10 minutes. Treatments can be longer depending on the size of the tattoo being treated.
How many treatments are needed?
A series of treatments are typically recommended. The number of treatments needed is dependent on variables such as ink type, size of the tattoo, location on the body, lifestyle habits, etc. Work with your provider to come up with a plan that's right for you!
CLICK HERE TO BOOK A FREE CONSULTATION ONLINE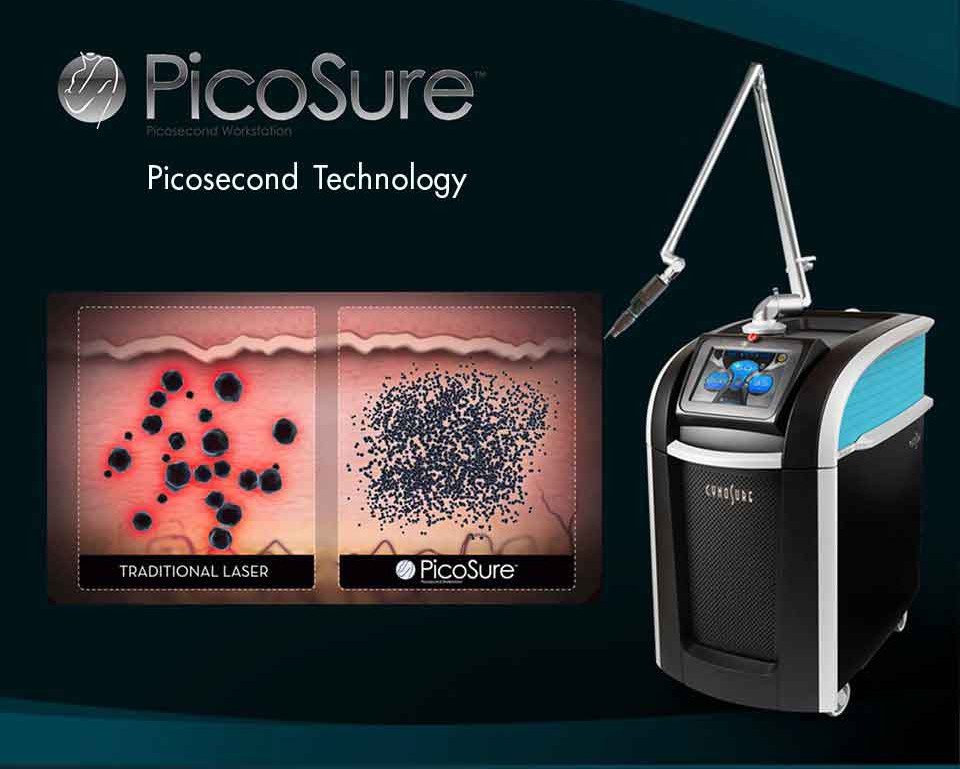 A Look at the PicoSure
Laser TATTOO REMOVAL Machine
The One and Only Gold Standard in Laser Tattoo Removal
All Skin Types – All Ink Colours
No Scars – Less Treatments
1 Billion of a Second Fast and Virtually Painless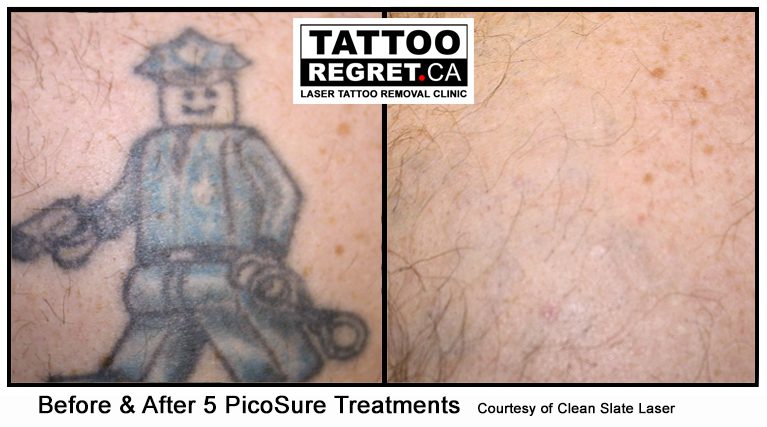 the PicoSure
Tattoo Laser REMOVAL Machine
World FIRST FDA approved Pico Laser
Only Pico Laser with 755nm wavelength
Consistent results
Least/minimal downtime compared to other Pico lasers
patented PressureWave technology
special FOCUS LENS
PICOSURE LASER TATTOO REMOVAL BEFORE AND AFTER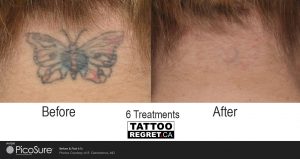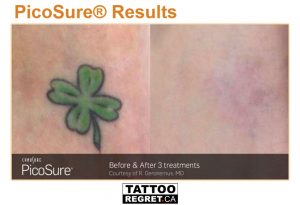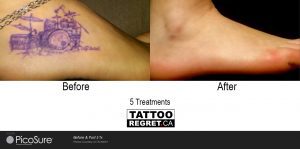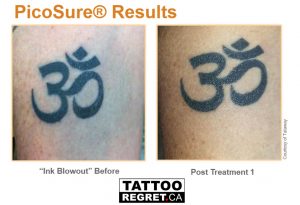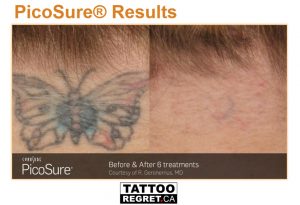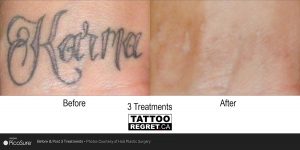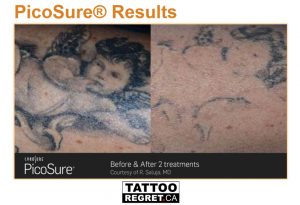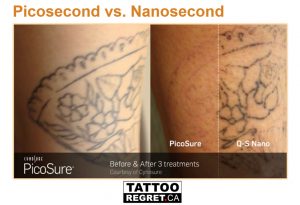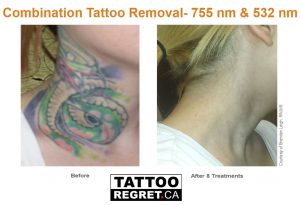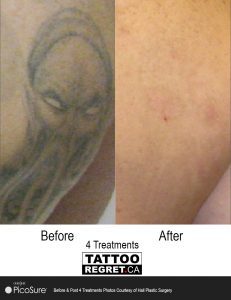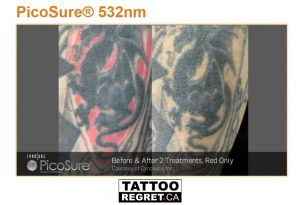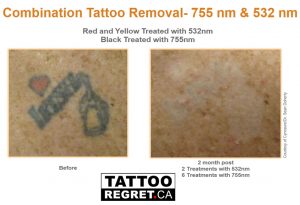 Get a FREE Online Consultation
Looking for Tattoo Removal?  TattooRegret.ca, is the premier tattoo removal clinic in the GTA specializing in BOTH laser and non-laser tattoo removal methods.  We use the PicoSure® laser for laser tattoo removal treatments and Tattoo Vanish® for non-laser tattoo removal treatments.  Clinics in Richmond Hill and Toronto.